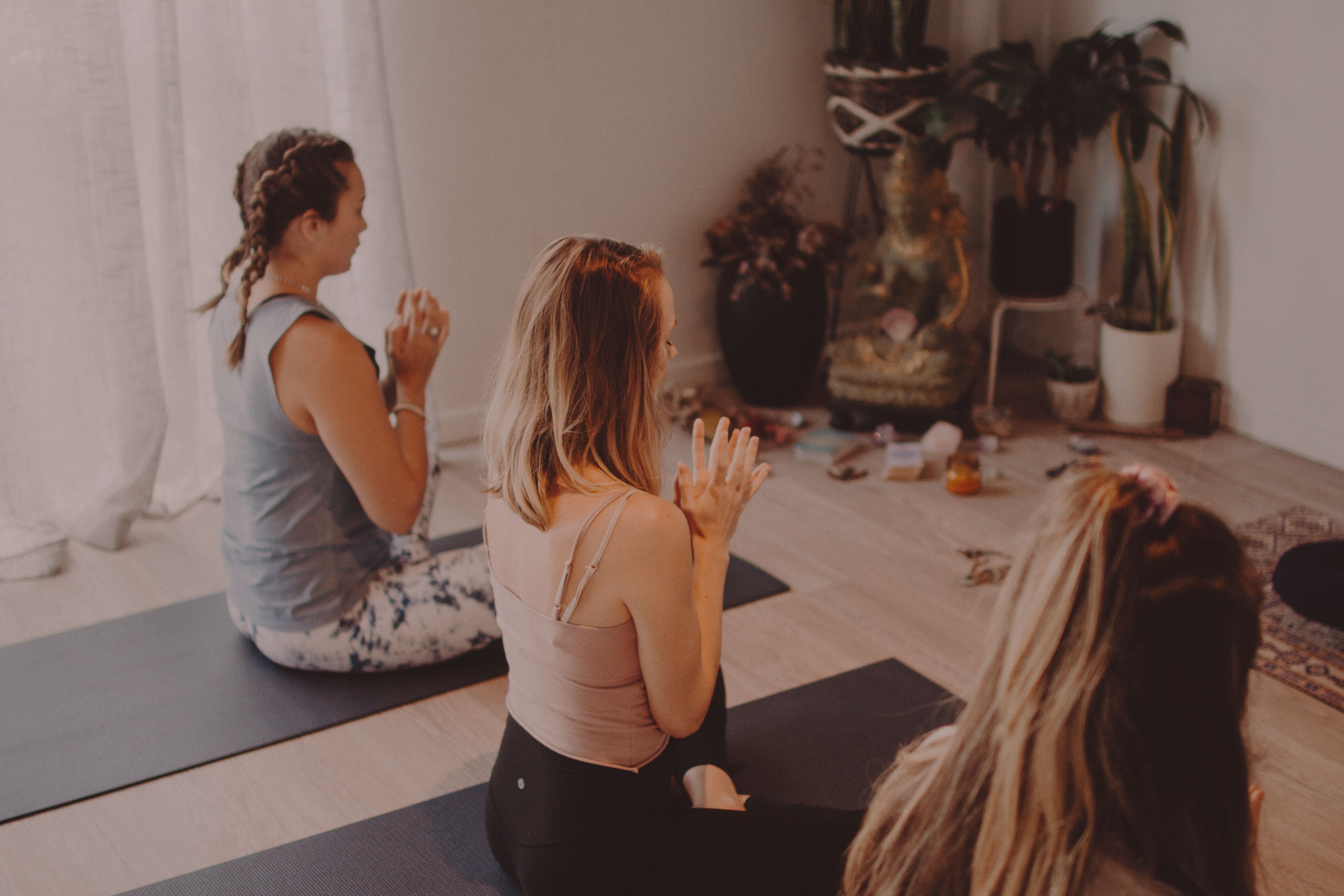 200HR TEACHER TRAINING IN VINYASA, HATHA & YIN YOGA - INCLUDING SOULFUL MODULES ON MEDITATION, CHAKRAS, ANATOMY, PHILOSOPHY, ALIGNMENT. DAILY PRACTICE, SUBTLE BODY ENERGETICS & TIME FOR SELF-STUDY & DEVELOPMENT.


INTAKE DETAILS
LOCATION:
Your choice of taking the entire training completely online from where ever you are in the world &/or in person.
DATES:
March 15th & April 1st: 200 hour YTT (100 hours begins online, must complete by April 1) option to do asana 100 online or in person.
In-person 100 hour asana runs: April 1, 2 & 3; 8, 9& 10; 15, 16 & 17, and 22, 23 & 24.
DAYS / TIMES:
Depending on where within the enrolment period you begin your training, the training is 30 days long, with course material being structured out within 23 days worth of Audio & Video Lecture & Yoga Practice Content, Readings & Assessment Material. Your practice time, & time spent on recording & submitting assessments balances it all out to be 30 days complete. This is also true for the in person Asana training option.
INVESTMENT:
For the only time ever, we are offering our ENTIRE two-part signature Yoga Teacher Training for JUST $2999 for the completely online option.
The online & in person training combination pricing is $3333.00.
PAYMENT OPTIONS:
Full & Part Payments available.
REFUND POLICY:
Please be absolutely certain of your purchase as we do not offer refunds. .
OVERVIEW:
Join The Sol Collective for this 100% online YTT where you will get the tools, guidance, and training to be a Yoga Alliance Internationally certified yoga teacher. With the training having a completely online option, you can study in your own time and in a way that supports your schedule. If you live in or around the Coffs Harbour, NSW area, you can also get in-person support and mentorship through this training through gaining membership to our local studio during the duration of the training to get your practice hours up.
If you are not local to the area, you can arrange a membership / class pass with your local studio if you have not already got one, & arrange your local studio to write you a reference letter confirming the classes attended in the duration of your training. Alternatively, you are also welcome to video record your own daily self-practices & centre your daily practice evaluations around this. We also have a deep yoga practice resource library within the training, where you can draw upon that for the duration of the training & beyond.
ABOUT THE TRAINING:
This 200 hour training will include study in: vinyasa, hatha, and yin yoga, meditation, chakras, anatomy, philosophy, alignment, and will also include daily practice, as well as subtle body energetics and time for personal study and development.
Course Curriculum–
THE PRACTICES:
Foundational Hatha Flow & Vinyasa Asana: Become a fully qualified Hatha & Vinyasa Teacher.
Foundational Yin Yoga: the basics of Yin Yoga Asana
Vinyasa Sequencing & Class Planning
Teaching Methodology: Vocal Quality, finding your voice, holding space, maintaining integrity & authenticity as a teacher.
Pranayama: Understand the power & transformational qualities of breath-work to change the way prana (life force) circulates within the energetic field.
Meditation, Mantra & the Energetic Body Practices
Self Practice: Creating your own daily Sadhana (practice)
THEORY & PHILOSOPHY:
Indian Yogic Lineage (Hatha & Vinyasa Yoga): Connecting you to an ancient oral tradition from teacher to student wisdom which emulates from thousands upon thousands of years. Understand the core history & philosophy of Yoga that we connect to within every class.
Chinese Medicine Energetics (Yin Yoga): Understand the theory of yin, yang, qi & the 5 elements.
Anatomy & Physiology
The chakras
The Yoga Sutras
Yogic Texts
THE BUSINESS OF TEACHING:
Business & Marketing: Finding the balance between modern life & spirituality
Yogic Lifestyle
Creating Work / Getting Work - Understanding what yoga studios & students are looking for
TEACHING & HOMEWORK:
Teaching Clinics: Building your capacity & voice as a teacher
Assisting & Observing in The Sol Collective Classes with teachers on the timetable
Deep Journalling
Weekly Homework & Attendance Questions - Providing opportunities for integration of the teachings.
Practicum & Exam
THINGS TO KNOW:
This course is designed to support you so that you can study at your own pace, whether that's joining us online for our weekly live sessions in the duration of the enrollment period, or viewing the play back sessions when and where you can.
No matter which option you choose, you will get personalised support through this course from master trainer, Tara Barchalk. Including an hour personal Zoom session as you near the end of your training.
WHAT'S INCLUDED:
Detailed 200 hour course manual
On-going support from your mentors through the training
200 hour certification from Yoga Alliance upon the completion of the entire course
In-person support if local to Coffs Harbour, NSW. Free online/in-person classes with The Sol Collective during the training (6 weeks of free unlimited membership = $250+ value)
Extra resources, tools, and tips given from your mentors during the course